If you're a member of the sad masses that are not currently in possession of a Wii U, then welcome! Grab a cookie and a seat. I'd really love to own one and dive into every little thing that Nintendo has on offer, but limited funds makes that a non-reality.

I am so jealous of the dedicated line-waiters at the Nintendo World Store. Source.
Instead of moping about and looking at pictures of purchased Wii Us online I decided to come up with a list of things to do
instead
of said-moping. Here they are!
1. Play a mobile game on a touchscreen phone/iPad while pointing it at my Wii and pretending it's a Wii U.
2. Watch gameplay videos of New Super Mario Bros. Wii U while holding a Wii remote to pretend that I'm controlling the game.
3. Print out an image of a Wii U and take a photo of it to brag to the internet that I have one in order to make myself feel included.
4. Give people fake account codes and tell them to "add me."
5. Spend all day in a Best Buy playing the display model and hissing at other patrons if they try to take a turn.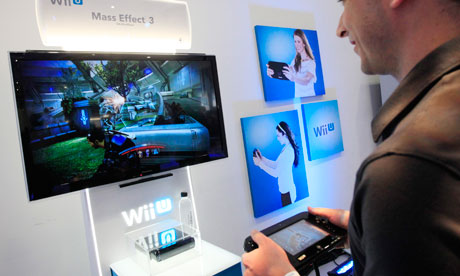 Add in a few crying children and uncomfortable employees, then you'll
have the spitting image of me
right now.
Source.
Or, instead of engaging in all of those amazing activities I guess I'll just play Paper Mario: Sticker Star and remind myself that things aren't
actually
that bad.
How many of you lucky folks were able to buy a Wii U yesterday? I'd love to hear some first-hand stories from owners!
-MJ