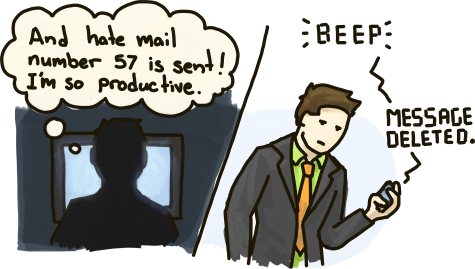 Things as productive as hate mail: watching paint dry, counting the number of rice grains
Gamers want choices, reality, and open-ended worlds. The majority of all games (until very recently) were helmed by male protagonists, so any female gamers could just shut up and play as a dude. The first game I ever played where a female lead was an option was
Harvest Moon: Magical Melody
and
I was so ecstatic
. Nowadays all
MMOs
offer both male and female characters, and newer open-ended single player experiences are offering that as well, such as
Mass Effect
. There are still only a handful of games with just a lady at the forefront; a
smattering of Resident Evil titles
,
Mirror's Edge
, and
Bayonetta
are the first ones to come to mind.
So. Choices. Non-linear gameplay, reality, and options parallel to those in real life. Women have finally been given the option to play in familiar terrain, and games such as
Fable
,
The Sims
,
Skyrim
, and Mass Effect have taken it a step further and provided players the option of a love interest. Now, given that whole "do whatever you want in-game" thing that everyone is so wild about, doesn't it make sense to include homosexual options? YES. That is a resounding "yes".
EA
has done just that, to the anger and dismay of homophobes everywhere, with their series Mass Effect. Since the most recent offering in the series released late last year there has been a constant growl of disapproval circulating the title, especially since this most recent iteration includes *gasp* gameplay footage of same-sex individuals together. Please note that this "footage" is men talking to one another while in their underwear. The horror! More sexy and exciting things happen in football locker rooms.
Even though EA was voted
the worst company of last year
, they are being shone in a favorable light this last week as
they responded to an influx of hate mail
over their inclusion of same-sex romance options and plot lines in-game for Mass Effect 3 as well as their MMO
Star Wars: The Old Republic
.
The haters and protestors continue to insist that the company is corrupting the youth, encouraging homosexuality, and is marketed at young children: BS line after BS line. While the
ESRB
may not be perfect, it is still fairly adequate at providing an at-a-glance answer as to whether or not a game is appropriate for a child. FOR INSTANCE!
Mass Effect 3 is rated M for Mature
. Mature, as in seventeen or over. Over seventeen as in nearly an adult. The ESRB provides more than just a letter rating though, they also give a description of the content that constitutes the letter rating. Mass Effect 3 is rated M for Mature for the following reasons: Blood, Partial Nudity, Sexual Content, Strong Language, Violence.
Are you
actually telling me
that those things are perfectly acceptable for your child, and the only thing that will cause that content to be inappropriate is a man loving a man, or a woman loving a woman?
Excuse me a moment.
Sir Ian McKellen makes everything better. Image via Sir Mitchell.
I hope it's no surprise that what this boils down to is the parent-child relationship, interaction, and how responsible the parent is in moderating and monitoring the child's recreational intake. When I worked at GameStop I sold a truly, disgustingly,
unbelievable
number of copies of
GTA
to parents who were openly purchasing it for their ten-years-of-age-or-younger children.
As a person with at least a smattering of moral responsibility (I have a very strong moral compass, just FYI), I felt angry and sickened each time this happened. I warned each and every parent that the content was extremely unsuitable for someone of such a young age, and 95% of the time I was greeted with a flippant hand flap and a casual remark that their, presumably unique, child was smart enough to understand that "it's just a game."
Right. Thanks. I was unaware that I worked in a game store.
This has become increasingly rant-y, and I'm apologizing for that. Not because I dislike rants, but because I didn't set out to create a rant.
It's true that parents should know their children, and if they truly believe that their seven year old is responsible, mature, and smart enough to understand that just because the gun-toting man in GTA is stealing cars and shooting cops, that doesn't mean that that's
actually OK
, then fine. But then don't have the audacity to turn around and blame gaming companies for "corrupting" your child because they continue to expand to all-inclusive reality by allowing gamers to pick a same-sex partner. The box says "sexual content". It's not the company's fault that you assumed that meant "straight people only".
-MJ