As we collectively say good-bye to the year 2012 I want to take this moment to look back, way back, to around 1992 or so.

It was a simpler time of DOS based machines, black screens, and mouseless navigation. The keyboards were chunkier and clunkier, and the floppy disks were actually floppy. I remember being in Kindergarten and having 'lab time', where all of us tiny children walked down the hallways and into the computer lab. The lights were dim, the room was warm, and the computers hummed lightly with anticipation of game time.

At school the game was always Word Muncher, a simple interactive title where a little green man with a giant mouth and legs walked around a grid and ate words or numbers that correlated to the key word or number. For example!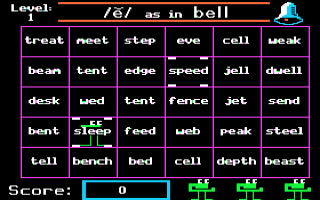 Aww yiss, Word Muncher. Source.
Those were good times, and I like to believe that is where I started my long and storied life as a computer lover.
When I was in second grade my mom bought our first family computer, and I was floored. I thought it was the best thing in the world, and I was so proud to have a computer at the house. MY house. After school I got to run home and play with it. And you know what I played?
Motha 'effin' Mario Teaches Typing. Source.
Mario Teaches Typing is the party responsible for the typist that I am today. In my prime I could do 77 wpm with virtually no errors. It's a fact that I am perhaps too proud of.
We didn't have internet until I was in fifth or sixth grade, and then it was AOL dial up and a nightmare. All years leading up to that were DOS based gaming bliss. Really just Mario Teaches Typing on Windows 95. My mom still has the box and all install items for it, too. The box is enormous and made of the heftiest cardboard that ever existed. It contains two options depending on your needs: five inch floppies, and three and a half inch floppies. Just hysterical.
What are your best DOS based memories?
-MJ